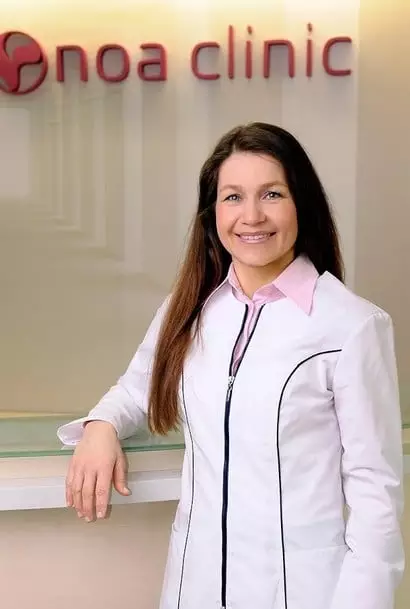 Ewa Kalecińska PhD
Private practise since 1994; over the period 1997-2008 she was assistant in Cathedral of prosthetic dentistry in Zakład Zaburzeń Czynności Narządu Żucia AM. Between 1998 and 2000 she was participant of postgraduate training on okluzodoncja at the University of Lille – France at professor Dupas due to bursary of the French Government.
Main themes of tests: axiografia; behavior of dentistry in patient with snoring and sleep apnea problem and issues of relationship between poise and masticatory apparatus, ended at 2008 with doctoral thesis. It got commendations and awards in international conferences GIRSO, between 1998-2002.
Author and co-author of 30 publications and 67 congressional reports in Poland and abroad. Participant of many courses (including training about coaching – Erickson College International/Jagiellonian University, ended at 2009 and ended graduate studies about osteopathic medicine – Osteopathy Academy-OSD Hamburg.
She has knowledge, experience and interest in nutrition in rehabilitation process and maintenance of health. Because of that her dental osteopathic practice contains multidimensional approach in relation to patients.
Appointments
BOOK AN APPOINTMENT
Booking form
Use the form below and book an appointment for the treatment.
Contact
Welcome to Noa Clinic. We have prepared a wide and comprehensive range of surgical procedures just for you. The treatments are done under the guidance of a qualified team of specialists and using the latest generation equipment.
We offer two fully equipped operating rooms. We also have four comfortable and air-conditioned rooms, in which the patients can relax both before and after the procedure. We provide our patients with professional care throughout the recovery period.